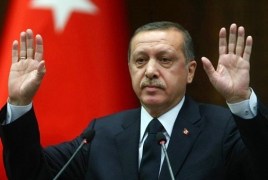 March 17, 2017 - 14:12 AMT
PanARMENIAN.Net - Switzerland has refused mutual legal assistance to Turkey over alleged insulting remarks made on social media against the Turkish president Recep Tayyip Erdogan despite a law against defaming heads of state, Swiss Info reports.
Turkey had lodged four complaints to the Swiss authorities concerning the comments made on social networks against Erdogan. Switzerland rejected the request for assistance in mid-January, Folco Galli, spokesperson for the Federal Office of Justice, told Swiss public television SRF on Thursday, March 16.
For legal measures to be taken, the alleged actions must be punishable in both countries.
"If similar criticisms had been expressed in Switzerland against a cabinet minister in the context of a political debate, this would naturally have been tolerated as a free expression of opinion," said Galli.
Switzerland does have a law against defaming a head of state or diplomats.
"Whoever insults a foreign head of state, a member of their government or diplomatic representation…shall be punished by imprisonment of up to three years or a fine," reads Article 296.
The legislation also specifically forbids insults against delegates attending a diplomatic event and official representatives at NGO meetings held in Switzerland. However, the head of government – in this case the seven-member cabinet – must approve the application of the law. That means it's a political decision.