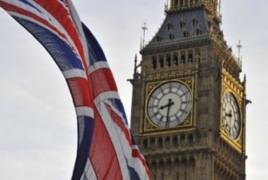 March 20, 2017 - 17:10 AMT
PanARMENIAN.Net - Prime Minister Theresa May will file divorce papers to leave the European Union on March 29, launching two years of complex negotiations that will pit the U.K.'s need for a trade deal against the bloc's view that Britain shouldn't benefit from Brexit, Bloomberg reports.
More than 40 years after the U.K. joined the EU and nine months since it voted to quit it, Britain's envoy to the bloc, Tim Barrow, informed EU President Donald Tusk on Monday, March 20 of her plan to invoke Article 50 of the Lisbon Treaty, the mechanism for quitting that has never been used.
At stake in the looming talks is whether Britain -- the world's sixth biggest economy -- can regain powers over immigration and lawmaking without derailing trade with its largest market or threatening London's status as the region's leading financial center. England's 310-year-old union with Scotland is also in jeopardy, while the border separating Northern Ireland -- a U.K. province -- from the Republic of Ireland could become a hard one.
"We are on the threshold of the most important negotiation for this country for a generation," Brexit Secretary David Davis said in a statement after the date was announced by May's spokesman, James Slack. "The government is clear in its aims: a deal that works for every nation and region of the U.K. and indeed for all of Europe –- a new, positive partnership between the U.K. and our friends and allies in the European Union."
The EU is "ready to begin negotiations," European Commission spokesman Margaritis Schinas told reporters in Brussels. The pound fell 0.2 percent to $1.2378 as of 12:15 p.m. London time. It earlier touched $1.2436, the strongest level this month.
For the EU, the focus will be on ensuring there is no easy ride for the British as it tries to safeguard the stability and the commitment of its 27 remaining member states to the postwar project of deepening economic and political union. It is also tested by growing nationalism at home and meddling from beyond by Russian President Vladimir Putin and U.S. President Donald Trump.