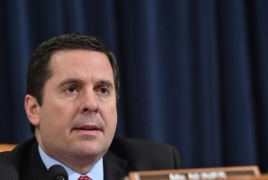 March 23, 2017 - 10:46 AMT
PanARMENIAN.Net - Donald Trump's communications may have been swept up in intelligence gathering on suspected foreign agents, according to explosive allegations made by the Republican head of the House intelligence committee, AFP says.
Devin Nunes -- who worked on Trump's transition team and is now leading an investigation into possible links between that campaign team and Russia -- said Trump's communications may have been intercepted late last year.
Nunes however said there was no evidence that then-president Barack Obama ordered the surveillance -- as Trump has claimed -- or that the Republican billionaire was the target.
Rather, Nunes suggested, Trump's communications were picked up during court-approved targeting of suspected foreign intelligence operatives.
The communications were not linked to Russia, he said, adding that they appeared to have "little or no intelligence value."
"The president himself and others in the Trump transition team were clearly put into intelligence reports," Nunes told reporters in front of the White House after briefing the president on the situation.
The information collected -- spanning the November-January period between Trump's election victory and his inauguration -- was "widely disseminated" in U.S. intelligence circles, he said.
U.S. intelligence community rules dictate that information on Americans picked up incidentally in surveillance must be scrubbed or masked in intelligence reports.
Nunes suggested those involved in the surveillance had violated those rules.
As for Trump, he indicated he felt vindicated by the revelation.
"I somewhat do. I must tell you I somewhat do," he said during a separate White House meeting.
"I very much appreciated the fact that they found what they found."
Trump was less circumspect Wednesday night, as he retweeted a post from conservative radio host and ardent Trump defender Bill Mitchell.
"Trump always ends up being right. It's almost a little freaky," Mitchell said.
On March 4, Trump implied his predecessor had broken the law in targeting him.
"Terrible! Just found out that Obama had my 'wires tapped' in Trump Tower just before the victory. Nothing found. This is McCarthyism!" he tweeted.
The claim has snowballed into a political scandal that has called Trump's credibility into question and damaged relations with foreign intelligence partners.