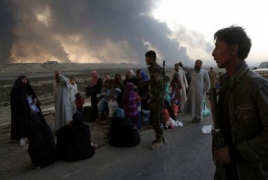 March 24, 2017 - 16:21 AMT
PanARMENIAN.Net - Iraqi forces are preparing a fresh push against Islamic State using new tactics, but operations to drive the militants out of their last stronghold in the country are on hold, military officials said on Friday, March 24, according to Reuters.
Families streamed out of the northern Iraqi city during the lull in fighting, part of an exodus of people fleeing in their thousands each day, the United Nations says, heading for cold, crowded camps or to stay with relatives.
The U.S.-backed operation to drive Islamic State out of Mosul, now in its sixth month, has recaptured most of the city. The entire eastern side and around half of the west is under Iraqi control.
But advances have stuttered in the last two weeks as fighting enters the narrow-alleyed Old City, and the militants put up fierce resistance using car bombs, snipers and mortar fire against forces and residents.
"Today we don't have operations," Lieutenant Colonel Abdel Amir al-Mohammedawi, a spokesman for the elite Rapid Response forces said by phone.
Attacks would soon resume, and "new techniques" more suitable to fighting in the Old City would be used, he said, without elaborating.
A Federal Police officer told Reuters the new tactics would include deploying additional sniper units against Islamic State sharpshooters.
The officer asked not to be identified because of the sensitivity of discussing military tactics.
Islamic State fighters have stationed themselves in homes belonging to Mosul residents to fire at Iraqi troops, often drawing air or artillery strikes that have killed civilians.