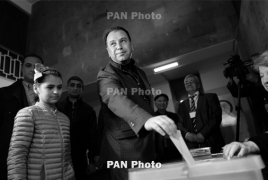 April 2, 2017 - 11:04 AMT
PanARMENIAN.Net - Defense minister Vigen Sargsyan cast a ballot in the elections to Armenia's National Assembly.
Sargsyan tops the electoral list of the ruling Republican Party of Armenia.
The official told journalists he expects an incident-free election day, noting that every step was taken to form a legislative field where every citizen can be confident that his vote will be instrumental in determining the country's political structure for the next 5 years, Panorama.am said.
You can follow the course of the elections live on PanARMENIAN.Net
Nine political forces, including 4 blocs and 5 parties are running for seats at the National Assembly - Republican, Armenian Revolutionary Federation Dashnaktsutyun, Armenian Renaissance, Free Democrats and Communist parties, as well as Tsarukyan, YELQ, ANC-PPA and Ohanyan-Raffi-Oskanian blocs.