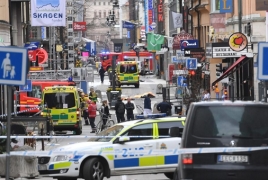 April 8, 2017 - 11:11 AMT
PanARMENIAN.Net - Sweden early Saturday, April 8 arrested a man for a "terrorist crime" hours after a beer truck ploughed into a crowd outside a busy department store in central Stockholm, killing four and injuring 15, AFP reports.
The man was arrested "on suspicion of a terrorist crime through murder," Karin Rosander, a communications director at the Swedish Prosecution Authority, told AFP.
Police said earlier on Friday after the attack that they had detained the man who "matched the description" of a photo released of a suspect wearing a dark hoodie and military green jacket.
But they did not confirm if he drove the truck.
According to the Aftonbladet newspaper, the same man is a 39-year-old of Uzbek origin and a supporter of the Islamic State (IS) group.
If confirmed as a terror attack, it would be Sweden's first such deadly assault. The 15 injured included children and nine people were "seriously" wounded, health authorities said.
Prime Minister Stefan Lofven said he had strengthened the country's border controls.
"Terrorists want us to be afraid, want us to change our behaviour, want us to not live our lives normally, but that is what we're going to do. So terrorists can never defeat Sweden, never," he said.
The attack occurred just before 3:00 pm (1300 GMT) when the stolen truck slammed into the corner of the bustling Ahlens store and the popular pedestrian street Drottninggatan, above ground from Stockholm's central subway station.
Pictures taken at the scene showed a large blue beer truck with a mangled undercarriage smashed into the Ahlens department store.
Witnesses described scenes of terror and panic.