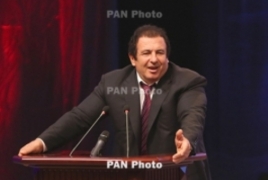 April 9, 2017 - 00:31 AMT
PanARMENIAN.Net - Armenia's Tsarukyan bloc said on Saturday, April 8 that it won't be participating in the upcoming elections to Yerevan City Council, slated for May 14.
"After the parliamentary elections, it's virtually impossible to offer a serious, thorough and proper development plan to the residents of Yerevan in such a short period of time," the bloc said in a statement.
The Republican Party of Armenia, Yerkir Tsirani party and YELQ bloc have already announced their participation in elections, with current mayor Taron Margaryan, lawmakers Zaruhi Postanjyan and Nikol Pashinyan heading the three political forces' proportional lists, respectively.
Municipal elections will be held on May 14.
Based on results calculated in all the 2009 polling stations after the elections to the National Assembly, the Republican party leads with 49.12% of votes (771 247 ballots), followed by the Tsarukyan bloc with 27.32% (428 965), YELQ with 7.77% (122 049) and the ARF Dashnaktsutyun with 6.57% (103 173).