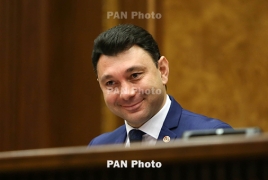 April 17, 2017 - 17:17 AMT
PanARMENIAN.Net - The Republican Party of Armenia will secure a majority in the Yerevan City Council following municipal elections on May 14, spokesman Eduard Sharmazanov said, according to RFE/RL Armenian Service.
"The city council, which I think will be led by mayor Taron Margaryan, naturally, should be able to solve all the problems facing the residents of Yerevan," Sharmazanov, who is also the RPA campaign manager in Yerevan elections, said.
"I am not yet familiar with the programs of other political forces running for city council seats, but they might offer healthy proposals."
Three parties participate in elections. RPA's proportional list is headed by current mayor Taron Margaryan; opposition lawmaker Nikol Pashinyan, who was recently re-elected to the National Assembly, tops the list of YELQ bloc; while MP Zaruhi Postanjyan, who announced the Yerkir Tsirani party several weeks ago, will head its list.
At the same time, Sharmazanov, expressed scepticism over the other parties' involvement in elections.
"Participating in elections is a party that no one in Armenia, except for Mrs Postanjyan, knows anything about. While YELQ is a new political force, which must use the upcoming vote to legitimize its opposition status," he added.