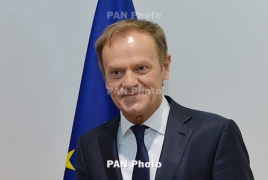 April 19, 2017 - 12:57 AMT
PanARMENIAN.Net - European Council President Donald Tusk is due to testify in Warsaw on Wednesday, April 19 as a witness in an investigation into military intelligence that critics say is an attempt by Poland's right-wing government to discredit former Prime Minister Tusk, Reuters says.
Tusk is the ex-leader of Poland's largest opposition party, Civic Platform (PO), and arch-rival of Jaroslaw Kaczynski, head of the ruling Law and Justice (PiS) party that has brought prosecutors under direct government control.
Tusk has been summoned to testify in an investigation against former heads of military counter-intelligence (SKW) suspected of co-operating with foreign intelligence services without the required authorization of the prime minister, whom Tusk was at the time.
"Donald Tusk is being dragged into this investigation for political reasons with the aim of humiliating him," Civic Platform lawmaker Jan Grabiec told Reuters.
A former SKW head has told media that Tusk was fully aware of secret services' co-operation with Russia and had authorized it.
The initial summons was for March 15, but Tusk could not take part due to prior engagements in the European Parliament.
His plenipotentiary, Roman Giertych, said earlier in April prosecutors had threatened twice to use physical force against Tusk to bring him to the hearing despite his EU immunity.
The euroskeptic PiS party, which defeated PO in a 2015 election, has been accused by the EU's executive arm, the European Commission, of undermining rule of law and democracy following the party's overhaul of the constitutional court.
Kaczynski, 67, holds no government post but is seen as Poland's main decision-maker. He had said Tusk should not be reappointed because he may face charges in Poland related to a 2010 plane crash that killed the Polish president - Kaczynski's twin brother Lech - and a Ponzi scheme.