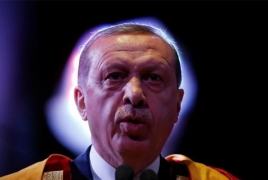 May 2, 2017 - 13:41 AMT
PanARMENIAN.Net - Turkey under President Recep Tayyip Erdogan has turned its back on joining the European Union, at least for now, the bloc's top official dealing with Ankara said, offering economic cooperation instead if both sides can restore friendly ties, Reuters reports.
After years of stalemate on Turkey's bid to join the world's biggest trading bloc, EU governments say the process is dead, citing Erdogan's crackdown on dissidents, his 'Nazi' jibes at Germany and a referendum giving him sweeping new powers that a rights group says lack checks and balances.
"Everybody's clear that, currently at least, Turkey is moving away from a European perspective," European Commissioner Johannes Hahn, who oversees EU membership bids, told Reuters.
"The focus of our relationship has to be something else," he said in an interview after EU foreign ministers met in Malta and where France and Germany led efforts to consider a new deal with Ankara based on trade and security ties.
"We have to see what could be done in the future, to see if we can restart some kind of cooperation," Hahn said on Saturday, saying that he had not had meetings on the economy with NATO-member Turkey since January last year, normally a fixture of accession talks.
The EU process is not formally frozen, but EU lawmakers called last week for a formal halt to talks, with some saying Turkey no longer met the democratic criteria to be considered a candidate, let alone a full member, for the EU.
Erdogan told Reuters in an interview last week that Turkey would not wait at Europe's door forever and would walk away from accession talks if what he said was rising Islamophobia and hostility from some member states persist.