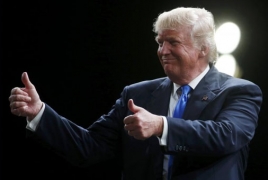 May 4, 2017 - 11:10 AMT
PanARMENIAN.Net - U.S. President Donald Trump will issue an executive order on Thursday, May 4, making it easier for churches and religious groups to take part in politics without risk of losing their tax-exempt status, a senior White House official said, according to AFP.
The order, which will also declare it the policy of the Trump administration to "protect and vigorously promote religious liberty," aims to get around a provision of the federal tax code known as the Johnson Amendment prohibiting religious organizations from directly opposing or supporting political candidates.
The order "will direct the IRS to exercise maximum enforcement discretion to alleviate the burden of the Johnson amendment, which prohibits religious leaders from speaking about politics and candidates from the pulpit," the official said.
However, "we're not actually in the executive order stating what the specific details of that relief will be," the official added.
The move, meant to mark the National Day of Prayer, will also make it easier for company owners to act in accordance with their religious beliefs -- such as refusing to pay for contraceptives -- under the Affordable Care Act.
In 2014, the Supreme Court ruled that closely held for-profit businesses -- those with at least 50 percent of stock held by five or fewer people -- with owners holding clear religious beliefs, can't be required to pay for specific types of contraceptives for their employees.
The executive order would seek to extend the ruling in the case known as Hobby Lobby, the official said. "We need to provide regulatory relief to deal with those outstanding issues for more than just companies like Hobby Lobby."
Trump is set to host religious leaders on Thursday morning. While some have complained about the time Trump has taken to loose restrictions against religious groups, other conservative religious leaders will likely be upset that his order will fall short of the broader action they have been advocating.