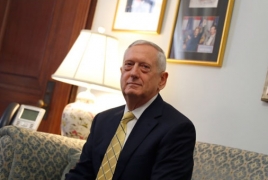 May 11, 2017 - 17:19 AMT
PanARMENIAN.Net - U.S. Defense Secretary Jim Mattis reaffirmed the U.S. commitment to protecting Turkey at a meeting Thursday, May 11. It was the first face-to-face meeting of top officials from the two nations since the Pentagon announced the U.S. would arm Syrian Kurds in the fight to oust Islamic State militants from the group's stronghold in Raqqa, The Washington Post reports.
Pentagon chief spokesperson Dana White said Mattis reiterated U.S. commitment to protecting Turkey, which is deeply opposed to the arms agreement and has called for its reversal. She said both leaders affirmed their support for peace and stability in Iraq and Syria.
Turkey believes the U.S.-backed Syrian Kurds, known as the YPG, are terrorists. But the U.S. is convinced they are the most effective local fighting force against IS. Turkish Prime Minister Binali Yildirim publicly criticized the decision, saying Wednesday that the U.S. can't use one terrorist group to fight another.
The two met for about half an hour before the start of an international conference in London on security threats and humanitarian crises in Somalia.
A senior U.S. official said Thursday the U.S. will be increasing joint intelligence-sharing with the Turks, in an effort to help them better target terrorists. The move, first reported by The Wall Street Journal, is part of the assurances to Turkey, which is concerned that the weapons will end up in the hands of its enemies.
The official, who was not authorized to discuss the issue and spoke on condition of anonymity, also said that the weapons have not started flowing to the Kurds.
Prior to Thursday's meeting, Yildirim had warned that "there is still an opportunity for the United States to take Turkey's sensitivities into consideration. Otherwise, the outcome won't only affect Turkey; a negative outcome will also emerge for the United States."
Mattis has repeatedly downplayed the friction between the two nations, saying that while "it's not always tidy," they will work out any differences.
Turkish President Recep Tayyip Erdogan is to visit President Donald Trump in Washington next Tuesday. He has demanded Washington reverse the decision, and said he would take up the issue with Trump.