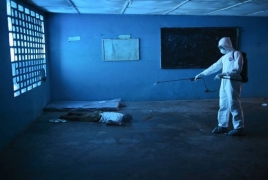 May 12, 2017 - 18:12 AMT
PanARMENIAN.Net - The World Health Organization says Congo's ministry of health has announced that it has confirmed a single case of Ebola, The Associated Press reports.
In a statement on its Twitter account, the U.N. health agency says Congo notified it and their partners of the case on Thursday, May 11.
The last outbreak of Ebola in Congo was in 2014 when the country recorded several dozen cases. That outbreak was not connected to the epidemic that killed thousands in Guinea, Sierra Leone and Liberia.
Ebola is a deadly hemorrhagic fever that occasionally jumps to humans from animals including bats and monkeys. Without preventive measures, the virus can spread quickly between people and is fatal in up to 90 percent of cases. An experimental vaccine was recently developed that WHO says could be used in emergencies.