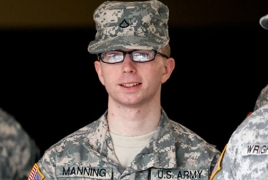 May 17, 2017 - 10:17 AMT
PanARMENIAN.Net - Chelsea Manning, the transgender army private jailed for one of the largest leaks of classified documents in US history, is set to walk out of a military prison Wednesday, May 17 after seven years behind bars, AFP reports.
In July 2010, Manning -- then a male soldier known as Bradley -- was arrested over the release of a huge trove of more than 700,000 classified military and diplomatic documents via WikiLeaks.
On Wednesday, Manning will leave the prison barracks at Fort Leavenworth in Kansas -- the only maximum-security facility run by the Pentagon -- thanks to a commutation of her sentence by president Barack Obama before he left office.
Without Obama's parting gift, Manning, who served as an intelligence official in Iraq, would have remained behind bars until 2045, after serving a 35-year sentence.
Supporters of Manning -- who attempted suicide twice last year alone -- said they feared she would not have been able to survive the long sentence. Now, she can complete her transition as a free, openly transgender woman.
"Two more days until the freedom of civilian life," Manning tweeted Monday. "Now hunting for private #healthcare like millions of Americans."