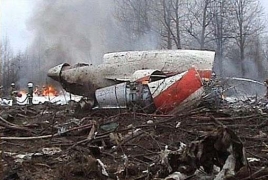 June 2, 2017 - 16:04 AMT
PanARMENIAN.Net - Polish investigators say remains of two other people have been found in the coffin of ex-President Lech Kaczynski, who died with dozens of other top officials in a plane crash in 2010.
Twenty-seven exhumations have been carried out so far since Poland started a new crash investigation last year.
The disaster happened near Smolensk in western Russia, as the government plane was coming in to land in thick fog.
Victims' remains were mixed up in 11 other coffins, investigators say.
The crash of the Soviet-built Tu-154 jet killed 96 people - the worst such disaster for Poland since World War Two.
Senior state and military officials had been on their way to a ceremony to mark the 70th anniversary of the Katyn massacre, in which more than 20,000 Polish officers were murdered by the Soviet secret police.
Russian and Polish investigations concluded that the crash was mainly caused by pilot error.
But the nationalist Law and Justice party (PiS), led by Lech Kaczynski's twin brother Jaroslaw, swept to power in October 2015 elections, and launched a new investigation.
Some PiS members believe the plane was brought down by an explosion. Some also claim that the Russian air traffic controllers deliberately misled the crew.