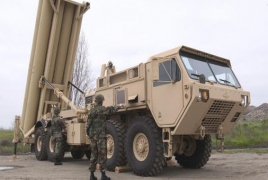 June 9, 2017 - 18:25 AMT
PanARMENIAN.Net - South Korea does not aim to change its agreement with the United States on the deployment of a U.S. anti-missile system and it will continue to work closely with Washington on it, the South's top national security adviser said on Friday, June 9, Reuters reveals.
A decision to postpone the full deployment of the Terminal High Altitude Area Defense (THAAD) system pending a review of its environment impact was a domestic measure to ensure a democratic process, Chung Eui-yong told a news briefing.
U.S. ally South Korea said on Wednesday it would hold off on installing remaining elements of the THAAD system, which China strongly objects to, until the environmental study was completed.
"The decision to introduce THAAD was made to protect South Korea and the U.S. forces in South Korea from a growing threat from the North. We won't take this decision lightly," Chung said.
During his successful campaign for a May election, South Korean President Moon Jae-in promised to review the THAAD deployment decision, made by the government of his conservative predecessor, Park Geun-hye.
China says the system's powerful radar can penetrate deep into its territory, undermining its stability and unsettling the regional balance. China also says the system does nothing to deter North Korea.
The United States and South Korea have said the THAAD system is only aimed at defending against North Korean missiles.
Two launchers of the full six-launcher THAAD battery, as well as its radar, have been installed at a site on what used to be a golf course near the southeastern city of Seongju.
Those elements will stay in place, South Korea has said.