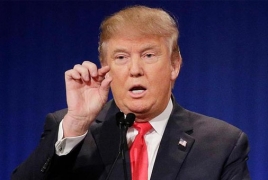 June 10, 2017 - 16:40 AMT
PanARMENIAN.Net - US President Donald Trump has accused Qatar's leadership of bankrolling extremists and demanded a halt to that funding, drawing praise Saturday, June 10 from Saudi Arabia and its allies, AFP reports.
Their approval came as Washington joined intensifying international efforts to heal the rift between the key Western Gulf allies, which has escalated into the region's worst diplomatic crisis in years.
Russia on Saturday urged dialogue between the parties, as Qatar's foreign minister arrived in Moscow seeking support from abroad in the dispute.
Trump's warning overshadowed an earlier declaration from US Secretary of State Rex Tillerson -- who encouraged Saudi Arabia and its allies to ease their land and sea "blockade" of Qatar.
Tillerson said the blockade was hindering the US-led campaign against the Islamic State group and having humanitarian consequences for ordinary people.
But US officials insisted both men were sending the same message that the countries of the region should not allow their differences to hinder the fight against extremism.
Qatar is home to the largest US airbase in the Middle East, making it a key ally in the US-led coalition against the Islamic State group in Iraq and Syria.
But it has fallen out with its Arab neighbors, who accuse it of sponsoring extremist groups, some of them allegedly linked to arch Saudi foe Iran, fomenting trouble across the region.
The neighbors also resent Qatar's ties to the Muslim Brotherhood movement and its sponsorship of the pan-Arab satellite television network Al-Jazeera, which has given opposition figures a platform.
Qatar has denounced the allegations of terror funding as baseless and has received the support of its close ally Turkey, which has approved the deployment of troops to defend the emirate.