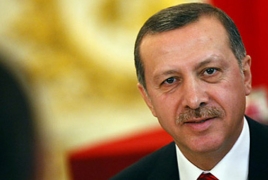 June 13, 2017 - 18:15 AMT
PanARMENIAN.Net - Turkish President Recep Tayyip Erdogan on Tuesday, June 13 slammed the economic and political isolation of Qatar as inhumane and contrary to Islamic values after key Gulf states broke off ties with Ankara's ally, AFP reports.
"Taking action to isolate a country in all areas is inhumane and un-Islamic," Erdogan said in televised comments to his party in Ankara, after Saudi Arabia, UAE and Bahrain broke off relations with Qatar on June 5, accusing it of supporting "terrorism".
In his strongest comments yet on the crisis, Erdogan added that Qatar was a country "on which a death sentenced had in some way been pronounced".
The crisis has put Turkey in a delicate position as Ankara regards Qatar as its chief ally in the Gulf but is also keen to maintain its improving relations with the key regional power Saudi Arabia.
Turkey also is eager to maintain workable relations with Iran, Saudi Arabia's foe with whom Doha's critics say Qatar maintained excessively close ties.
Erdogan added he would hold three-way phone talks on the crisis later Tuesday with French President Emmanuel Macron and Qatar's emir, Sheikh Tamim bin Hamad Al-Thani.
The move by Saudi and its allies came shortly after US President Donald Trump visited Riyadh, with some analysts saying the US leader had emboldened the Saudi leadership.
Earlier, Turkish Foreign Minister Mevlut Cavusoglu said that Erdogan would hold talks on the crisis with Trump in the coming days.
Erdogan vehemently rejected the accusations -- already strongly denied by Doha -- that Qatar supports terrorism, arguing the country had been a staunch opponent of Islamic State (IS) jihadists.
"Qatar is a country which, like Turkey, has adopted the most resolute stance against Daesh (IS)," said Erdogan. "Let's stop fooling ourselves."