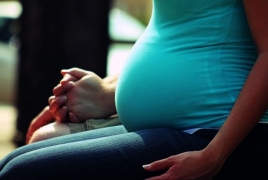 June 15, 2017 - 12:11 AMT
PanARMENIAN.Net - Risks of major birth defects increased in step with the severity of a mother's obesity or overweight, a study published Wednesday, June 14 in the BMJ medical journal found, according to CNN.
Based on these results, women should be encouraged to adopt a healthy lifestyle and be at a normal body weight before conception, said researchers led by Martina Persson, a researcher in the clinical epidemiology unit at Karolinska Institutet in Stockholm, Sweden.
The study's findings are not entirely new, but "expand on previous knowledge," Persson said in an email. Past studies have shown an increased risk of congenital malformations among obese mothers.
What was not known is whether the same risk increased when mothers were simply overweight and whether risks escalated as the severity of overweight/obesity increased.
Persson and her colleagues analyzed data on more than 1.2 million live births, excluding twins and other multiples, in Sweden between 2001 and 2014.
For the mothers in the study, being underweight was defined as having a body mass index of less than 18.5. Normal weight ranged from BMI 18.5 to 24, while overweight ranged from BMI 25 to 29. Obesity among the mothers was categorized as either class I, a BMI of 30 to 34, class II, a BMI of 35 to 39, or class III, a BMI of 40 or higher. Body mass index is the ratio between a person's weight and height.
A total of 43,550 of the infants -- 3.5% -- had a major congenital malformation, the researchers found when looking at the medical records. Heart defects were the most common birth defect, followed by flaws in the genital organs, limbs, urinary system, digestive system and nervous system.
Babies of normal-weight mothers had a 3.4% risk of a major congenital malformation, the researchers calculated. By comparison, the proportion of major birth defects among the children of overweight mothers was 3.5%. Among the babies of mothers in obesity class I, the rate was 3.8%; in obesity class II, 4.2%; and obesity class III, 4.7%.