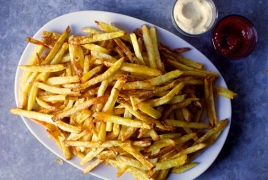 June 15, 2017 - 13:24 AMT
PanARMENIAN.Net - How your spuds are cooked is key to your health. People who eat fried potatoes two or more times a week double their risk of an early death compared to those who avoid them, a recent study published in the American Journal of Clinical Nutrition found, according to CNN.
Eating potatoes that have not been fried was not linked to a similar early mortality risk, the researchers noted.
"Fried potatoes consumption is increasing worldwide," warned Dr. Nicola Veronese, lead author of the study and a scientist at the National Research Council in Padova, Italy.
In 2014, Americans consumed 112.1 pounds of potatoes per person. Of that total, 33.5 pounds were fresh potatoes, the remaining 78.5 pounds were processed. According to the US Department of Agriculture, the majority of processed potatoes Americans eat are French fries.
Veronese and his colleagues have been tracking 4,440 people aged 45 to 79 over a period of eight years to study osteoarthritis. This research team decided to momentarily set aside the main issue of osteoarthritis and look at participants' consumption of potatoes.
Even though most of us may have assumed that fried potatoes could be unhealthy for us, there is "very limited" scientific data on this issue, Veronese explained in an email.
So the researchers divided study participants into subgroups based on how frequently they ate potatoes each week. Over the eight years, a total of 236 of the participants died. Analyzing the data for each group, Veronese and his team found that those who ate fried potatoes two to three times each week doubled their chance of dying early compared to those who ate no fried potatoes.
French fries, potato chips, hash browns -- and any other preparation requiring a fryer -- are all included under the umbrella of "fried potatoes," Veronese explained.