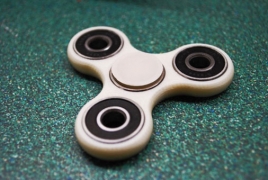 June 19, 2017 - 15:01 AMT
PanARMENIAN.Net - Fidget spinners are probably on the way out, with the high-water mark of fidget obsession appearing to be about a month behind us and the interest in the glorified ball bearings plateauing or declining, FiveThirtyEight's Walt Hickey says in an article.
In his research, Hickey relied on Google Trends reports in three categories: Google News searches, web searches and YouTube searches.
The data reveal that Google web search interest peaked in early May, with maximum interest in the U.S. on May 6, according to Google Trends. Then the fad made its way to internet news consumers over the next week; May 18 was the high-water mark for fidget spinner news searches.
YouTube search interest seems to trail typical search interest by about a week, so the plateau could be a sign that the trend is waning a bit, the article says.
"Although the number of trending videos related to fidget toys has begun to level off, the two best days for fidget spinner content in terms of views were in June," it says.
"Even if there's a long tail on this trend, it's very likely that peak fidget spinner is behind us. The kind of content now doing well on YouTube is either fidget-adjacent stunt videos or videos that have taken a particularly weird turn. This doesn't mean the ball-bearing business is doomed, just maybe don't go long on the spinner industrial complex or quit your job to live off a fidget-related Kickstarter idea at this point."
A fidget spinner is a toy that is marketed as relieving stress. It consists of a bearing in the center of a multi-lobed flat structure made from metal or plastic. The toy has been advertised as helping people who have trouble with focusing or fidgeting (such as those with ADHD, autism, or anxiety) by acting as a release mechanism for nervous energy or psychological stress.