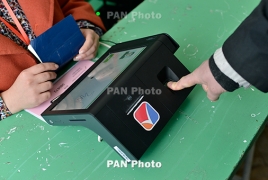 June 28, 2017 - 16:43 AMT
PanARMENIAN.Net - The Citizen Observer Initiative (COI) has submitted 96 complaints to the Armenia's Administrative Court, appealing the decisions of the Territorial Electoral Commissions and the Central Electoral Commission on violations registered by observers during the 2017 parliamentary elections.
The complaints are related to numerous violations of objective and subjective electoral right registered by citizen observers acting on behalf of the organizations acting under the umbrella of the COI.
The complaints on subjective electoral rights include violations of the rights of observers, media representatives, proxies and commission members, pressure on and violence in respect of them, failure to supply observers with the relevant documentation, obstruction of the right to video- and/or audiorecord the proceedings, etc.
The complaints on objective electoral rights include violations in respect of failure to adequately furnish the voting room, presence of campaign materials in the voting room, camera failures, violations of the commission member rotation, as well as a number of other violations.
First hearing at the Administrative Court is scheduled on July 6.
On April 2, 2972 COI observers monitored 1521 polling stations and registered 2131 electoral violations during the preparation, voting, counting and tabulation of votes.