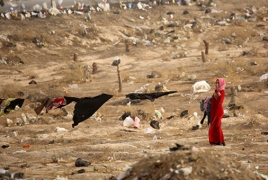 July 4, 2017 - 18:29 AMT
PanARMENIAN.Net - Iraqi forces slowed their advance on Tuesday, July 4 through the last streets in Mosul controlled by Islamic State where militants and civilians are packed in densely together, a commander said, according to Reuters.
While Iraqi commanders predicted final victory in Mosul this week, U.S.-backed Syrian Democratic Forces announced they had begun an assault on Islamic State's Syrian redoubt in the Old City of Raqqa.
The Iraqi military has pushed insurgents into a shrinking rectangle no more than 300 by 500 meters beside the Tigris river in Mosul; but the resistance has been fierce.
The Rapid Response Division, an elite Interior Ministry unit, called in air strikes just 50 meters away from their targets, and the fighting got close enough at one point for the militants to toss a hand grenade at the troops.
It was from the pulpit of Mosul's medieval Grand al-Nuri Mosque that, three years ago, leader Abu Bakr al-Baghdadi declared a "caliphate" over parts of Iraq and Syria. Forces retook the mosque on Thursday, prompting Prime Minister Haider al-Abadi to declare an end to the group's "state of falsehood".
The number of Islamic State militants fighting in Mosul, by far the biggest city it has ever controlled, has dwindled from thousands at the start of the U.S.-backed offensive more than eight months ago to a couple of hundred now, according to the Iraqi military.
A commander from the Rapid Response Division estimated more than 10,000 civilians remained trapped inside the area under militant control, including people brought from other areas as human shields.
They are trapped with little food, water or medicine amid the Old City's maze of narrow alleyways, according to residents who have managed to escape.
"The presence of civilians has affected the troops' advance a lot. The directions from the commander-in-chief of the armed forces are to advance slowly to preserve civilians' lives and this is what we are doing," the officer said on state TV without being named.
"The area is small but the advance today is very good, relatively."
He said the progress had also been slowed by a high number of improvised explosives planted in streets and buildings.
A U.S.-led international coalition is providing air and ground support to the offensive, which Iraq's army and counter-terrorism service are also fighting in a multi-pronged attack.