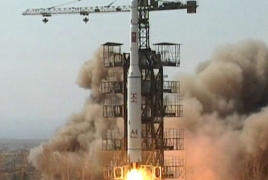 July 5, 2017 - 11:19 AMT
PanARMENIAN.Net - North Korea said on Wednesday, July 5, its newly developed intercontinental ballistic missile (ICBM) can carry a large nuclear warhead, triggering a call by Washington for global action to hold it accountable for pursuing nuclear weapons, Reuters reports.
A spokeswoman for the U.S. Defense Department said it had concluded that North Korea test-launched an ICBM on Tuesday, which some experts now believe had the range to reach the U.S. state of Alaska as well as parts of the mainland United States.
U.S. Secretary of State Rex Tillerson said the test, on the eve of the U.S. Independence Day holiday, represented "a new escalation of the threat" to the United States and its allies, and vowed to take stronger measures.
North Korean leader Kim Jong Un said the test completed his country's strategic weapons capability that includes atomic and hydrogen bombs and ICBMs, the state KCNA news agency said.
Pyongyang would not negotiate with the United States to give up those weapons until Washington abandons its hostile policy against the North, KCNA quoted Kim as saying.
"He, with a broad smile on his face, told officials, scientists and technicians that the U.S. would be displeased ... as it was given a 'package of gifts' on its 'Independence Day'," KCNA said.
Kim ordered them to "frequently send big and small 'gift packages' to the Yankees," it added.
The launch came days before leaders from the Group of 20 nations are due to discuss steps to rein in North Korea's weapons program, which it has pursued in defiance of United Nations Security Council sanctions.
The test successfully verified the technical requirements of the newly developed ICBM in stage separation, the atmospheric re-entry of the warhead and the late-stage control of the warhead, KCNA said.
Tillerson warned that any country that hosts North Korean workers, provides economic or military aid to Pyongyang, or fails to implement U.N. sanctions "is aiding and abetting a dangerous regime".
"All nations should publicly demonstrate to North Korea that there are consequences to their pursuit of nuclear weapons," Tillerson said in a statement.