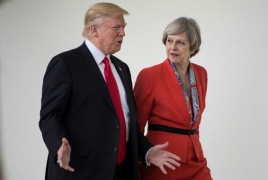 July 11, 2017 - 14:21 AMT
PanARMENIAN.Net - US President Donald Trump's state visit to Britain is being planned for next year, a senior British government source said Tuesday, July 11, according to AFP.
Prime Minister Theresa May extended the invitation when she visited Washington just days after Trump's inauguration in January, but a date has yet to be set.
The source said both sides had been unable to arrange a date for 2017 and were now looking for dates in 2018.
There has been speculation Trump was deferring the state visit, an occasion filled with pomp that involves a banquet with Queen Elizabeth II, amid concerns that it would draw protests over his presidency.
Questions about the trip also arose after it got no mention in the Queen's annual speech to parliament in June, when it is customary for the monarch to list upcoming state visits.
But Trump confirmed he would be visiting Britain at the G20 in Hamburg, where he met with May, saying he "will be going to London". Asked when, he replied: "We'll work that out."
May has been derided for seeking to curry favour with Trump and has come under fire for inviting him for a state visit so soon into his presidency.