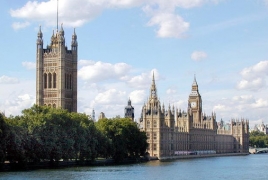 July 13, 2017 - 11:42 AMT
PanARMENIAN.Net - A government refusal to publish a report on the funding of UK Islamist extremist groups has been criticised, BBC News reports.
The home secretary has issued a two-page summary which concluded most organisations were funded via small, anonymous British-based donations.
Amber Rudd said she had decided to do so for national security reasons.
Opposition parties claimed the internal review was being "suppressed" to protect Saudi Arabia which has been accused of being a source of funding.
The Home Office has been under pressure for months to publish its investigation into the "nature, scale and origin of the funding".
Rudd said another reason for not making the report public was because of the personal information it contained.
Some MPs will be allowed to view the report in private but without revealing its contents.
The summary of the report concluded that most extremist organisations got their money, often hundreds of thousands of pounds, from individual donors in the UK.
But it also confirmed that a small minority did get significant funds from overseas. These, it said, taught "deeply conservative forms of Islam" to individuals who became "of extremist concern".
From now on, charities will have to declare any overseas funding to the Charity Commission.
The summary said: "The most common source of support for Islamist extremist organisations in the UK is from small, anonymous public donations, with the majority of these donations most likely coming from UK-based individuals.
"In some cases these organisations receive hundreds of thousands of pounds a year."
It added: "For a small number of organisations with which there are extremism concerns, overseas funding is a significant source of income.
"However, for the vast majority of extremist groups in the UK, overseas funding is not a significant source. Overseas support has allowed individuals to study at institutions that teach deeply conservative forms of Islam and provide highly socially conservative literature and preachers to the UK's Islamic institutions.
"Some of these individuals have since become of extremist concern."