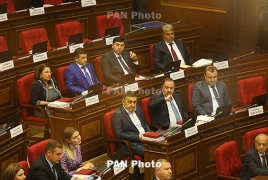 July 19, 2017 - 13:18 AMT
PanARMENIAN.Net - A joint session of the Armenian Revolutionary Federation - Dashnaktsutyun Bureau and the Supreme Body was held on Monday, July 17, on the sidelines of which a declaration commending the quality of the government's work was adopted.
The ARFD said in the statement it has examined the political and social situation in Armenia and its strategic development priorities.
"Armenia has entered a qualitatively new stage of development," the statement said, adding that the country continues to face foreign political challenges that force it to make a transition to a progressive development policy.
"The issue of security of both Armenia and Artsakh (Nagorno Karabakh) continues to be the focus of the agenda."
Also, the ARFD hailed the quality of the government's activities, citing the people's expectations for positive changes.
"Examining the results of the work done, the joint session of the ARFD Bureau and the Supreme Body states that Dashnaktsutyun's involvement in the coalition with the Republican Party plays a central role in the process of implementing systematic and deep changes in Armenia," the statement said.
The ruling Republican Party of Armenia (RPA) and the Armenian Revolutionary Federation Dashnaktsutyun (ARFD) on May 11 signed a memorandum on establishing a political coalition. The agreement, signed at the presidential palace in downtown Yerevan, will remain in force until the expiration of the powers of the 6th Convocation National Assembly.