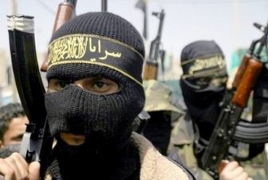 July 24, 2017 - 16:41 AMT
PanARMENIAN.Net - The Somalia-based al-Shabab is mocking U.S. President Donald Trump in a new video that calls him a "brainless billionaire" as his administration steps up military efforts against what has become the deadliest Islamic extremist group in Africa, The Associated Press reports.
It is the first public criticism by the al-Qaida-linked al-Shabab of the U.S. president since his election. The SITE Intelligence Group says the video released Sunday, July 23 includes the comments as the extremist group addresses next month's presidential election in neighboring Kenya.
Al-Shabab has claimed a growing number of deadly attacks in Kenya as the election approaches, and Kenyan President Uhuru Kenyatta this month declared a new offensive against the extremists.
Trump earlier this year approved expanded military operations against al-Shabab, including more aggressive airstrikes and considering parts of southern Somalia areas of active hostilities. Somalia also is included in Trump's ban on refugees and visitors from six mostly Muslim countries.
The new video says U.S. voters elected "arguably the most stupid president a country could ever have" and says Trump is "making the United States the greatest joke on earth and is now propelling it further to its eventual defeat and destruction."
The extremist group has vowed retribution on Kenya in particular for sending its troops to Somalia to take part in a multinational African Union force against al-Shabab.
"Your military's invasion of Somalia will continue to destabilize your country," the new al-Shabab video says. "When we do strike, your government will not be able to protect you."
Somalia is trying to rebuild after more than two decades as a failed state, and its chaos helped in al-Shabab's rise. The extremist group last year killed more than 4,200 people, according to the Pentagon-supported Africa Center for Strategic Studies.
Al-Shabab has vowed to step up attacks against Somalia's recently elected government and has carried out numerous deadly attacks in the capital, Mogadishu.