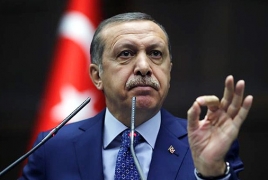 July 25, 2017 - 16:20 AMT
PanARMENIAN.Net - Turkish President Recep Tayyip Erdogan ramped up his anti-Western rhetoric Tuesday, July 25 ahead of a meeting between his foreign minister and top European Union officials, saying the era of a submissive Turkey bowing to every Western demand is over, The Associated Press reports.
Turkey has been mired in an escalating diplomatic row with EU powerhouse Germany following the arrests last week of a group of human rights activists, including a German national, over terror-related charges. Earlier, a German-Turkish journalist was arrested for allegedly spying and aiding Kurdish rebels.
"The West wants Turkey to bring about their demands no questions asked... I am sorry to say that Turkey no longer exists," Erdogan told a meeting of his ruling party's legislators in Ankara.
Turkey's Foreign Minister Mevlut Cavusoglu and EU Affairs Minister Omer Celik are meeting with EU foreign affairs chief Federica Mogherini in Brussels Tuesday. The talks come as Turkey's long-standing bid for EU membership remains in the deep freeze and show no signs of thawing.
Human rights activists urged the EU to use the meeting to press Ankara to release rights workers who have been detained as part of Turkey's crackdown on the opposition in the aftermath of last year's failed coup.
"Our call is very simple. We want the unconditional and immediate release of these human rights defenders," said Amnesty International Secretary General Salil Shetty. Amnesty's Turkey Director and Chair, Idil Eser and Taner Kilic, are among those being detained.
"Turkey has to get a clear message that the EU would like to reset its relationship with Turkey and that there will be consequences for the actions they take, because right now they feel no consequences," Shetty added after handing a petition to EU foreign affairs chief Federica Mogherini.
More than 50,000 people, including journalists and opposition lawmakers, have been detained since the July 15, 2016 coup attempt. Critics say the crackdown initially targeted people suspected of links to the failed coup, but has expanded to include government opponents.
Turkey applied to join the EU three decades ago, and they started negotiating in 2005. But of the 16 negotiating chapters on issues as varied as capital movement and food safety, only one — science and research — has been provisionally closed.
Tuesday's discussions in Brussels are expected to touch on issues including Ankara's EU accession, immigration, Turkey's demands for visa-free travel for its citizens, the fight against terrorism and energy and trade ties.