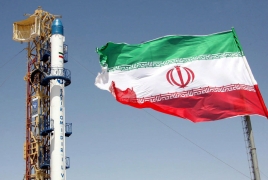 July 27, 2017 - 18:38 AMT
PanARMENIAN.Net - Iran has successfully tested a rocket that can deliver satellites into orbit, state television reported on Thursday, July 27 - an event likely to raise tensions with the United States because of its potential use in a ballistic missile, Reuters reports.
"The Imam Khomeini Space Centre was officially opened with the successful test of the Simorgh (Phoenix) space launch vehicle," state television said. "The Simorgh can place a satellite weighing up to 250 kg (550 pounds) in an orbit of 500 km (311 miles)."
"The Imam Khomeini Space Centre ... is a large complex that includes all stages of the preparation, launch, control and guidance of satellites," state television added.
The United States this month slapped new economic sanctions on Iran over its ballistic missile programme, and said Tehran's "malign activities" in the Middle East had undercut any "positive contributions" from a 2015 accord curbing its nuclear programme.
The measures signalled that President Donald Trump wanted to put more pressure on Iran while keeping in place the accord between Tehran and six world powers, which he has in the past condemned.
On Saturday, Iran announced the launch of a new facility to produce a missile that can target fighter planes, unmanned aerial vehicles, cruise missiles and helicopters.
In 2013, Iran said it had successfully launched a monkey into space and retrieved it alive, which officials hailed as a major step towards their goal of sending humans into space.
But in March, an official said the state-run space agency had cancelled a project to launch a human into space because of high costs.