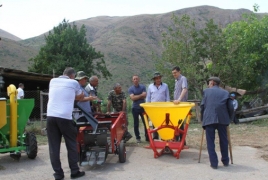 July 28, 2017 - 11:09 AMT
PanARMENIAN.Net - The Foundation for the Preservation of Wildlife and Cultural Assets (FPWC) and VivaCell-MTS have implemented the 4th project in the Gnishik community of Vayots Dzor province. The community encompasses the villages of Gnishik and Mozrov.
In January 2017, the cooperating organizations donated a DT-75 caterpillar tractor, which was manufactured in 2016, to the community. However, as the community is heavily engaged in agriculture, it needed more agricultural machinery.
The cooperating organizations solved that problem through the jointly implemented Community Development project. The new agricultural machinery donated to the community will make the working process more systematic. The new equipment includes a potato planter, potato harvester, fertilizer sprayer, as well as grass harvesting machines, a cultivator, and a plow.
VivaCell-MTS General Manager Ralph Yirikian and the founder of the FPWC Ruben Khachatryan visited Gnishik community to donate the new agricultural equipment and meet the residents and the head of the community Ara Levonyan.
"Give people an opportunity of stable employment, means of living and decent housing conditions, and they will be empowered to overcome greater challenges. We, partner organizations, implement programs aimed at community development. In Gnishik community, in particular, we have solved some of the main issues of the community by providing a potable water supply system, outdoor lighting, and necessary agricultural equipment. Only part of community agricultural lands is used because of the lack of equipment and because of the village location. If we solve these main community issues, our compatriots in border villages will stay and work in their Homeland," said Yirikian.
In winter the roads to Mozrov and Gnishik often become impassable, and the residents are being isolated for days. From now on the community will no longer face that problem because the machinery will be used to clear the roads during the winter.
The two previously mentioned projects have been carried out in the Gnishik community in the course of this year, with two other projects having previously been accomplished as well. In 2015 the community was provided with a LED external illumination system as 37 illumination pillars were installed. One year later, a 2050 m long water pipe was constructed in the Gnishik community, which made a continuous water supply available for the residents.
The Gnishik community has 225 residents. The main occupation of the local people is agriculture, cattle breeding, and beekeeping. The region is famous for its historical-cultural heritage and lavish nature. A number of khachkars, chapels, cemeteries of the 4th -5th centuries, and numerous caves have been found on the territory of the community. Due to its unique geographic location, Gnishik has exceptional flora and fauna and is listed in the specially protected areas of Armenian nature. Its territory is a corridor for Red listed Armenian mouflon, Bezoar goat, brown bear, lynx, Caucasian lLeopard, and other animal species.