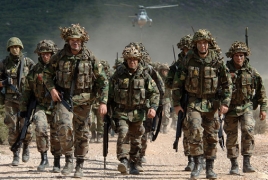 July 31, 2017 - 12:58 AMT
PanARMENIAN.Net - Some 2,800 troops from Armenia, Britain, Germany, Turkey, Ukraine, Slovenia, Georgia and the United States have begun a NATO major military exercise in Georgia.
About 1,600 U.S. troops and 800 Georgian soldiers are taking part in the two-week exercises, dubbed Noble Partner.
Troops from eight countries are participating, with the United States deploying a mechanized company, including several Bradley infantry fighting vehicles and M1A2 Abrams battle tanks.
U.S. Vice President Mike Pence is scheduled to visit Georgia on July 31 after a stop in Estonia to meet with Baltic leaders also concerned about Russia's intensions in their region. He will meet with U.S. troops on August 1.
During his stop in Tallinn, Pence said, "Our message to the Baltic states -- my message when we visit Georgia and Montenegro -- will be the same: To our allies here in Eastern Europe, we are with you, we stand with you on behalf of freedoms."