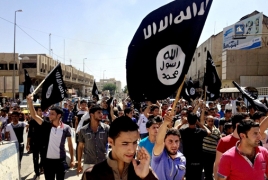 August 25, 2017 - 14:52 AMT
PanARMENIAN.Net - The number of Islamic State terrorist group members in Syria exceeds 9,000, Head of the Russian General Staff's Main Department, Igor Korobov, said on Thursday, August 24, TASS reports.
"This group's number in Syria, according to our estimates, reaches more than 9,000 militants, who are now concentrated mainly in the central part of the country and the republic's eastern areas bordering Iraq, mainly along the Euphrates River," Korobov told a roundtable of the Army-2017 military and technical forum.
According to him, leaders of the Islamic State group consider the Syrian territory as a foothold for their expansion to the Middle East and other world regions as part of implementing the concept of creating the "greater caliphate."
"Amid the operation carried out by Russia and Syria, and also the US-led international anti-terrorist coalition against this group, the IS leaders seek to prevent the destruction on the territories they control of power structures that they call a symbol of the Islamic rebirth," Korobov said.
The IS field commanders have been tasked with keeping control over the seized areas, including oil deposits in eastern Syria, and also strategic transportation routes for deploying gunmen and cargos from Iraq to Syria and return, he said.