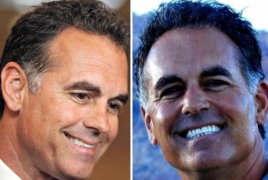 August 26, 2017 - 14:55 AMT
PanARMENIAN.Net - GOP U.S. Senate challenger Danny Tarkanian has blown past incumbent Sen. Dean Heller (R-NV) per a new poll out of the state of Nevada, Breitbart News reports.
Tarkanian, who is of Armenian descent, announced his 2018 Republican primary challenge against Heller for a U.S. Senate seat from Nevada in early August.
Tarkanian, per the new poll from JMC Analytics, is up at 39 percent in the new survey. His lead towers eight points over the incumbent Heller's 31 percent.
A whopping 31 percent are undecided between Heller and Tarkanian. Even so, when given the choice of Heller versus not Tarkanian, a majority of Republicans in Nevada—51 percent—want someone other than Heller, 31 percent would renominate Heller, and 18 percent are undecided.
The survey of 700 likely GOP voters in Nevada was conducted from Aug. 24 to Aug. 25 and has a margin of error of 3.7 percent with a 95 percent confidence interval.
Earlier, former Alaska Gov. Sarah Palin endorsed Danny Tarkanian for the U.S. Senate in Nevada