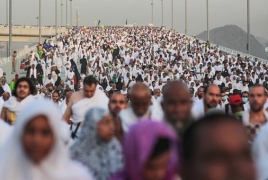 August 28, 2017 - 13:19 AMT
PanARMENIAN.Net - Two million Muslims from across the globe are converging on Mecca in Saudi Arabia for the hajj pilgrimage, a religious duty and for some pilgrims the journey of a lifetime, AFP reports.
This year sees the return of pilgrims from Shiite Iran, regional rival to Sunni powerhouse Saudi Arabia, and comes with the Gulf mired in political crisis and Islamic State group jihadists squeezed in Iraq and Syria.
"I'm so excited because many people dream of coming to this place," said 47-year-old Eni from Indonesia, her face framed in a sand-coloured veil trimmed with lace.
"We feel more religious when we leave this place," she said.
Indonesia is the world's most populous Muslim nation, and it also provides the largest number of pilgrims for the hajj.
The hajj is one of the five pillars of the Islamic faith, which every Muslim is required to complete at least once in a lifetime if he or she has the means to do so.
Iranians are back after not attending in 2016 following a deadly Mecca stampede the previous year that killed nearly 2,300 pilgrims.
It was the worst catastrophe in the history of the hajj, with 464 people from the Islamic republic among the dead.
Following the disaster, Tehran railed against Saudi Arabia's organisation of the pilgrimage.