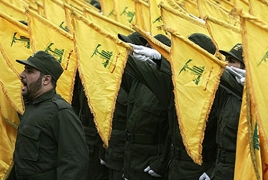 August 29, 2017 - 14:39 AMT
PanARMENIAN.Net - Hezbollah Secretary General Seyyed Hassan Nasrallah said that the Islamic State militants had no choice but to accept Hezbollah proposed conditions and left the region, IRNA reports.
He made the remarks while addressing a ceremony marking liberation of Lebanese and Syrian border areas from Takfiri terrorist groups. His address was aired live on Al-Menar TV.
Referring to the recent war against IS terrorists in the Lebanese and Syrian borders, Nasrallah said that neither Hezbollah nor the Lebanese army sought ceasefire but at the end the Takfiri terrorists accepted proposed conditions and abandoned the region.
When IS proposed talks, Hezbollah forces declared their conditions and called for freedom of two priests and journalist Samir Kasab and they finally accepted the conditions.
As to the last stage of the agreement with IS, Nasrallah said that it was committed to deliver remains of the bodies of the military as well as a Lebanese captive.
Based on the agreement, some 670 civilians, 26 wounded and 308 members of IS have left the Qalamoun heights, he said.
Hezbollah secretary general said that August 28 should be designated as the 'second liberation of Lebanon' in the history, as the first one happened in 2000 and Zionist regime was expelled from the territory of Lebanon.