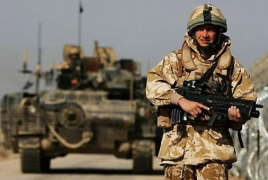 September 4, 2017 - 12:33 AMT
PanARMENIAN.Net - The United Kingdom has withdrawn its troops from the coalition-operated al-Tanf base in Syria's southwestern desert and de facto ended all military assistance hitherto provided to the Free Syrian Army (FSA).
Just like US military personnel who were also part of the "moderate opposition" training program in southern Syria, British special forces troops operated from the coalition base established at the town of al-Tanf near Syria's border with Iraq.
The British wind-down of support to FSA militants began in June of this year when at least 20 special forces troops were confirmed to have withdrawn from the al-Tanf base.
As of very recently, the remainder of the British contingent at al-Tanf has departed taking with them any further UK support for the FSA in southern Syria.