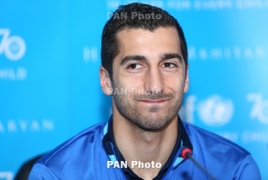 September 13, 2017 - 18:29 AMT
PanARMENIAN.Net - Manchester United fans are seeing the best of Henrikh Mkhitaryan, The Sportsman said in a fresh article on Wednesday, September 13.
"When José Mourinho dropped Henrikh Mkhitaryan and left him out of the side for several months last season, questions were beginning to be asked," the feature says.
"However, 12 months on, and those conspiracies have been refuted and we are truly seeing the best form of Mkhitaryan since his days at Borussia Dortmund. Towards the end of last season we saw glimpses in the Europa League of what the tricky, attacking midfielder can offer, but we failed to see him reproduce those performances in the Premier League. But four games into the new domestic season and Mkhitaryan has already racked up five assists - four more than he managed in the entirety of last season. He has looked a completely different player and looks composed in a Manchester United shirt."
In hindsight, the article continues, it was the right decision from Mourinho to allow Mkhitaryan the time to embed himself in England, in new surroundings, in a new country, playing a completely different style of football.
"What Manchester United lacked in the final third last year was a clinical edge in front of goal. While that is not Mkhitaryan's area of use, the ability to continue to create heaps of chances is only going to help in the long-run," The Sportman says.
The Armenian captain has a wealth of experience in European competition after being at both Shakthar Donetsk and Borussia Dortmund prior to joining Manchester United in 2016.
"Operating as a number 10, the playmaker has a habit of delivering the crucial pass at the right time, splitting the opposition's defence like a hot knife through butter.
Mkhitaryan is also deceptively quick. When Manchester United break for a counter-attack, fans are reluctant to see Juan Mata pick up the ball because, for all of his strengths, his natural speed is not one of them. However, with the former Dortmund star, that is not a problem. Mkhitaryan can keep pace with the quickest players in the team and has the creative intuition to see how the play ahead of him is unfolding.