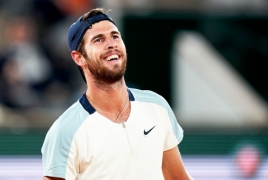 January 25, 2023 - 17:46 AMT
PanARMENIAN.Net - Karen Khachanov continued his career resurgence by moving into his second consecutive grand slam semi-final at the Australian Open on Tuesday, January 24 but even as he marches through the draw his message has commanded as much attention as his tennis, The Guardian says in an article.
Khachanov advanced past Sebastian Korda after the American retired with a right-wrist injury when trailing 7-6 (5), 6-3, 3-0.
During his wins against Frances Tiafoe and Yoshihito Nishioka, Khachanov signed the camera by writing "Stay strong, Artsakh", referring to the blockade of the disputed territory between Armenia and Azerbaijan, which is also known as Nagorno-Karabakh, since mid-December. Khachanov's father, Abgar, is from Armenia's capital city, Yerevan.
After the quarter-final Khachanov reiterated his support, although he declined to elaborate: "I have Armenian roots," he said. "From my father's side, from my grandfather's side, even from my mom's side. I'm half-Armenian. I don't want to go deeper than that and I just wanted to show strength and support to my people."
Khachanov's support shines further light on a territorial conflict between Armenia and Azerbaijan that has taken place for more than 30 years. The most recent significant conflict, the 44-Day War, occurred in 2020, when 6,800 soldiers died.
After the ceasefire agreement, thousands of Russian peacekeeping forces were deployed along the Lachin corridor, the only road linking Armenia with the territory and where supplies are transported to the mountainous region from Armenia.
In a letter to the International Tennis Federation on Tuesday, the Azerbaijan Tennis Federation demanded Khachanov receive punishment for his message: "Writing heartfelt wishes on the camera lens is a kind of tradition in tennis, but Khachanov abused this, using it in his dirty plans."
Khachanov did not mention Azerbaijan in any of his messages and said he had not received any message from the ITF or discouragement from anyone.
Since December 12, the sole road connecting Nagorno Karabakh to Armenia - the Lachin Corridor - has been blocked by self-described Azerbaijani environmentalists. Karabakh residents have reported food and fuel shortages, while hospital patients don't have access to essential medicines, with only a handful allowed transfer to facilities in Armenia proper.