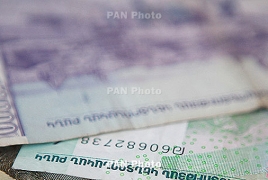 September 28, 2017 - 16:43 AMT
PanARMENIAN.Net - Armenia's economy is set to grow by 4.3 percent this year, more than an earlier estimate of 3.2 percent, the country's finance minister said, according to Reuters.
Vardan Aramyan also said the government planned to sell $500 million worth of Eurobonds in 2019 or 2020 to refinance a seven-year bond that matures in 2020.
"We are going to revise the economic growth basis for 2017 and to put an indicator of 4.3 percent instead of 3.2 percent for real economic growth this year," Vardan Aramyan told Reuters in an interview late on Wednesday.
Submitting the 2018 budget draft to the parliament on Thursday, September 28, Aramyan said that gross domestic product (GDP) growth next year is projected to be 4.5 percent.
Aramyan said the better economic forecasts were also helped by economic policies, including support for export-oriented enterprises and the agricultural sector.
The minister said the government did not need to raise money from overseas in the coming years and would help finance the budget deficit via local debt issuance.
He said he would be discussing prospects for issuance with investors and banks JP Morgan and Bank of America Merrill Lynch during the International Monetary Fund and World Bank annual meetings in October.
Aramyan said he expected annual inflation to "enter the target range of 4 percent plus/minus 1.5 percent in 2017", and to be less than 4 percent in 2018.
Consumer prices in Armenia fell by 0.4 percent in August, month-on-month, but rose by 0.9 percent year-on-year.
Armenia's central bank said on Tuesday it had kept its refinancing rate unchanged at 6 percent.