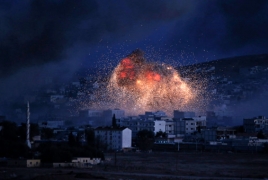 October 11, 2017 - 10:27 AMT
PanARMENIAN.Net - The former Islamic State linked Free Syrian Army (FSA) commander, 'Abdel-Jabbar 'Okeidi, announced on Tuesday, October 10 the opening of a military academy to train new militants to 'liberate' Syria from the Assad government, Al-Masdar News reports.
'Okeidi stated in a video that the academy will be named in honor of the deceased Islamist leader, 'Abdel-Qader Saleh – he was militant commander of Liwaa Al-Tawheed from the northern Aleppo town of Mar'e.
The former Syrian Army officer, 'Okeidi, first became famous for his defection and then joining forces with the Islamic State during the siege of the Mennagh Military Airport in the northern country of Aleppo in early 2013.
Following the capture of the Mennagh Airport, 'Okeidi called the Islamic State terrorists his brothers and a key ally in the battle against the Syrian government.