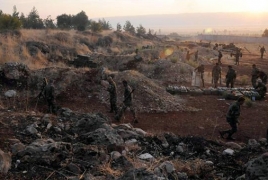 October 13, 2017 - 12:02 AMT
PanARMENIAN.Net - The Syrian Arab Army (SAA) made significant progress inside the strategic city of Al-MayadeenThursday, October 12, liberating several districts that were occupied by the Islamic State (IS), Al-Masdar News says.
Al-Mayadeen is the capital of the Mayadin District, part of the Deir ez-Zor Governorate.
Led by the elite Tiger Forces, the Syrian army managed to liberate the Al-Rashadeh District of Al-Mayadeen after a day-long battle inside the city.
With Al-Rashadeh liberated, the army troops completely enveloped Al-Mayadeen, leaving no outlet for the Islamic State terrorists to retreat from.
On Friday morning, the Syrian Arab Army resumed their assault on the city, striking the last half Al-Mayadeen that was occupied by the terrorist group.
Currently, the government forces are pushing deeper inside of Al-Mayadeen, while their allies from the Russian Aerospace Forces pound the Islamic State's supply lines along the Euphrates River.