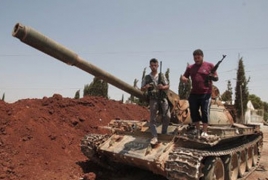 October 13, 2017 - 17:27 AMT
PanARMENIAN.Net - As elite forces of the Syrian Arab Army advance on the Islamic State's capital city of Al-Mayadeen, they have encountered an increase the use of snipers by IS to bleed their ranks with stand-off fire, Al-Masdar News reveals.
Video footage was released Friday, October 13, showing a unit of the Syrian Army's Tiger Forces – the leading force of the Al-Mayadeen offensive – coming under fire from an IS sniper. The engagement took place on the outskirts of Al-Mayadeen.
The jihadist sniper attacking Syrian troops in the video appears to have been using an semi-automatic rifle (most likely a Dragunov). Employing a high-volume of fire, the IS marksman manages to suppress the platoon-sized Tiger Forces unit from afar.
After using a spotter to identify the position of the IS sniper, the Tiger Forces unit utilize a heavy machine gun with a shield mount to counter-suppress the jihadist marksman whilst storming infantry armed with rocket launchers moved in close enough to fire at the sniper with high-explosive ammunition.
Despite suffering defeat after defeat since the beginning of this year, IS forces are constantly employing now tactics and strategies and to this end, Syrian Army troops are themselves in state of constant adjustment for the sake of lowering casualties and maintaining the edge of their jihadist foes.