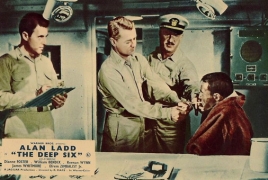 October 16, 2017 - 15:01 AMT
PanARMENIAN.Net - Multilingualism has been a thing in Hollywood forever: real languages are mixed with accents, word play and even invented languages to reach a more authentic interpretation of what is happening at that particular moment.
Humans tend to take languages for granted. However, foreign speech in films may shape our experience as viewers and even make us like or dislike a particular film, usually without our knowing it.
We, Armenians, are especially amused when we hear foreigners speak our own language, even more so in foreign-language films, not to mention cases when we encounter Armenian speech in a Hollywood movie.
This is the case with "The Deep Six", a 1958 World War II drama film where Ross Bagdasarian Sr. - American pianist, musician, actor, voice actor, and record producer of Armenian descent - became that one guy to play the first Armenian-speaking scene in U.S. cinema.
Legendary film icon Alan Ladd was the first to produce a major Hollywood film with an Armenian-speaking scene that reportedly lasted over 10 pages from the shooting script.
Ladd stars as Naval gunnery sergeant Alec Austin, a Quaker whose sincere pacifist sentiments do not sit well with his crew members. When he refuses to fire upon an unidentified plane, the word spreads that Austin cannot be relied upon in battle (never mind that the plane turns out to be one of ours).
In the film, Baghdasarian portrays Pvt. Aaron Slobodjian, who, in the middle of the film, leads U.S. marine members to what appears to be a cafe and calls on fellow Armenians having a good time and singing and dancing to "show our sailor cousins what Armenian hospitality really is." In quite a comical scene, Pvt. Slobodjian then goes on to order kufta, tolma, scotch and water in a humorous manner (a short clip is available below).
Although Baghdasarian's moment is hilariously funny, the hero is killed (off-camera) when a Japanese plane attacks the ship he serves on; his body is shown afterwards lying on the deck in the aftermath of the battle.
I have no idea whether what I'm about to say has anything to do with the small country syndrome, but anyone who is capable of pronouncing at least three words in Armenian becomes a kind of hero in our eyes.
When Armenians meet a tourist or a friend's friend or their own guest from abroad, the first thing they are pretty much sure to ask is whether they have already managed to learn a word or two in Armenian. And when the poor travelers do pronounce the much-anticipated phrases like 'Barev, vonts es?' (Hie, how are you?) or 'Inch ka chka?' (What's up?), we immediately become happy as a clam at high tide.
But this a whole different story, and the urge by foreigners to study and learn the Armenian language deserves a feature of its own.