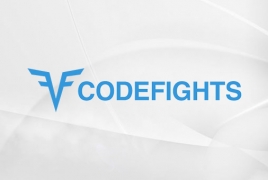 October 26, 2017 - 17:33 AMT
PanARMENIAN.Net - Business Insider on Wednesday, October 25 published an article about CodeFights, a global platform created by a group of Armenians whose website helps programmers to improve their skills by offering them coding challenges.
CodeFights has developed a new system designed to help recruiters evaluate job candidates based on the candidates' skills rather than on what they've listed on their résumés, Business Insider reveals.
For the past two years, CodeFights, which was founded by former Google and Oracle engineers, has been helping companies recruit new employees by screening programmers who came to its site to practice their coding. After seeing how well CodeFights' site worked for finding talented engineers, the company's partners, which include Uber, Asana, and Evernote, urged CodeFights to create tools they could use internally to screen job candidates.
The result is CodeFightsR. The system helps companies evaluate job applicants based on their programming skills. Companies can use CodeFightsR to send applicants a programming test. The system assesses candidates' skill levels based on how they do on the test. Hiring managers can then look at applicants' scores to figure out which ones to bring in for an interview.
The system is designed to evaluate candidates objectively, rather than having assessments clouded by conscious or unconscious biases. CodeFightsR can point hiring managers to candidates who actually have the skills they're looking for, regardless of their gender or race or the school they graduated from.
But companies can also use CodeFightsR to find additional job candidates, not just screen existing ones.
Companies can use the CodeFightsR system to design programming bots and list them on CodeFights' public website. Programmers who visit CodeFights' site can play against the bots as a way of testing their skills. If they do well against a particular company's bot, they'll get a prompt asking if they are interested in job opportunities at that company. So, the system helps companies find qualified candidates who might not otherwise have gone through a formal application process.
Companies can also use CodeFightsR to figure out how to improve their hiring process. The system offers automated feedback on companies' hiring processes.
CodeFights hopes the new set of recruiting tools will help it add many more stories to the wall.
On CodeFights, programmers create free accounts and then play in challenges against each other, or against bots built by the company. There are leaderboards, points, and other features that track the players' skill levels over time. That strategy has expanded to include branded gaming challenges with partners who help design the games.