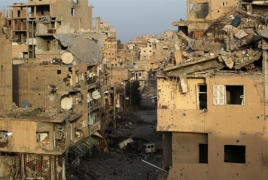 November 3, 2017 - 12:30 AMT
PanARMENIAN.Net - The provincial capital of Syria's oil-rich Deir ez-Zor province was declared entirely liberated following months-long battles with the Islamic State militant group, Al-Masdar News reports.
IS militants have been squeezed in a couple of neighborhoods after losing great numbers of its fighters during the battles with the advancing Syrian forces.
"The Syrian Army managed to fully secure the eastern city of Deir ez-Zor after expelling IS militants from its last neighborhoods inside the city," a Syrian military official said in a statement.
Deir ez-Zor has a strategic importance for the Syrian government and opposition for being the country's oil-rich province.
Meanwhile, the Syrian government forces, backed by allies, are now less than 45 km from the bordering city of Albukamal.