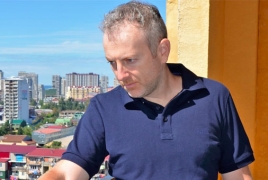 November 4, 2017 - 16:11 AMT
PanARMENIAN.Net - The country most similar to Azerbaijan is Gambia in Africa, blogger Alexander Lapshin said in a Facebook post on Saturday, November 4.
"Armenian friends are asking me: 'Based on your experience of having traveled in 150 countries of the world, what state does Azerbaijan look like the most?' Armenians themselves cannot visit Azerbaijan, so the question is quite appropriate," Lapshin said.
"Given the personality cult, persecution of opposition and the press, as well as the general marasmus in the society, they are most similar to the African country of Gambia."
Lapshin was sentenced by the Baku court on grave crimes on July 20, 2017 over his visit to Nagorno Karabakh.
The blogger was detained in the Belarusian capital of Minsk in December 2016 at Baku's request. He was flown to Baku on February 7 and handed over to the Azerbaijani State Security Service. Azerbaijan's prosecutors opened criminal cases against him envisaging jail terms of between five and eight years. He was recently extradited to Israel.