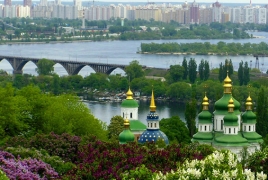 November 7, 2017 - 13:07 AMT
PanARMENIAN.Net - Recognition of the Genocide is a matter of principle for the Armenian community of Ukraine, historian Maxim Tsarenko has said, according to AnalitikaUA.net.
"The issue of the recognition of the Armenian Genocide is moving towards a logical solution, evidenced by the growing number of supporters of this step among parliamentarians, numerous appeals from local self-government bodies, and extensive media coverage," Tsarenko was quoted as saying.
According to Tsarenko, the process is further promoted by constant explanatory work conducted by the Union of Armenians of Ukraine.
Events commemorating the Armenian Genocide are held regularly in Kiev and the regions of the country. At the initiative of the head of the Union of Armenians of Ukraine, Vilen Shatvoryan, more than 10 khachkars have already been installed in different parts of the country within the past two years, while another 10 khachkars will soon be installed in various cities.