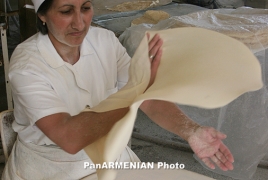 November 14, 2017 - 12:57 AMT
PanARMENIAN.Net - A San Francisco-based American publisher of books, Chronicle Books will publish a cookbook of exceptional Armenian and Artsakh (Nagorno Karabakh) recipes.
Titled "Lavash", the book will be authored by food writer, collaborator, and recipe developer Late Leahy, photographer John Lee and chef Ara Zada.
Lavash is a soft, thin unleavened flatbread made in a tonir (tandoor) and is one of the most widespread types of bread in Armenia.
The three started the first phase of the work by traveling to the various provinces of Armenia to reveal the traditional ways of cooking the dishes.
A group of students from Tumo - a center for creative technologies - will accompany the authors throughout the whole process to help and learn from them.
The book will unveil the Armenian and Karabakh cuisine, from appetizers and main dishes to desserts. Included in the UNESCO Intangible Cultural Heritage, lavash will be a key ingredient in the book.