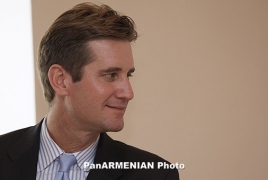 November 17, 2017 - 10:28 AMT
PanARMENIAN.Net - Nagorno Karabakh is an example of 'absolute cooperation' between the United States and Russia, former deputy assistant secretary of state for Europe and Eurasia, former co-chair of the OSCE Minsk Group Matthew Bryza said on Thursday, November 16, RIA Novosti reports.
"We have completely opposite views on the conflict in Georgia, and at the same time we are absolutely cooperating on Nagorno Karabakh and the issue of combating terrorism, "said Bryza.
The OSCE Minsk Group co-chairs are mediating a peaceful settlement of the conflict. They met with Armenian and Azerbaijani foreign ministers on November 14 and 16, respectively, and agreed to hold a joint meeting in Vienna in December.
According to Bryza, there have been significant changes in the relation between the two countries in comparison with the situation of 8-9 years ago.
The U.S. is now investigating whether President Donald Trump's campaign headquarters had any connections with Russia, Bryza said, adding that positive moments in cooperation with Moscow are not considered as a goal for now.
"But I think it will pass," he said.